Making building designs and operations more sustainable has become increasingly important to owners, employees, designers, and more. Not only are there benefits to the environment and to the people using the space, but there are financial benefits as well. Investors are flocking to sustainable assets, and there's evidence that owners can command higher rents for sustainable buildings. In 2020, mutual funds and exchange-traded funds invested about $300 billion in sustainable assets around the world, nearly double the figure from 2019, according to asset manager BlackRock. And sustainable buildings have been linked to higher rents and higher-quality tenants.
What does sustainability mean for engineers and architects, and how is it influencing design and construction? Below, structural engineer Ahmad Rahimian, professor Terri Meyer Boake, and architect Jason Smith—all Nucor Minds of Steel members—answer questions about sustainability's increasingly vital role in building design and development.
How important is sustainability to building developers or owners now?
Ahmad: They are looking at it more from a holistic approach and seeing the landscape is changing. They have to provide a product that is appealing to the market not just now but 10 years from now, and they're asking for more sustainable designs as a result. Part of that bigger picture is creating an eco-friendly environment for the staff. It's a lot more focused on the experience of the staff and employees. Leaders want to make sure that workers are excited to come to the office.
Terri: When the green building movement started to take hold in Europe, you began seeing floor plates shrink so that everybody would have access to daylight. And that improved productivity because people working in those environments tended to be happier. They tended to call in sick less. And so then that started to make its way into North American corporate culture.
Jason: To see the discussion evolve and become more widespread, it's really exciting. We're now asking – how can we lower our carbon footprint and make the building's habitat better and healthier? You see that in certifications. There's the Living Building Challenge, there's WELL — that program has gained a lot of traction. Everyone's got to meet code requirements, and they've only become more stringent. And a lot of companies want to speak to sustainability publicly in their marketing and PR efforts.
What are some innovative ways you've seen to make buildings more sustainable?
Jason: Our team designed a research and development facility in Fitchburg (Wisconsin) where we used a dual skin facade. One of many benefits was wrapping the whole building in a greenhouse pseudo-mechanical space to passively heat just with the sun while air naturally ventilated the building. And by doing that, we could increase the amount of time that you'd be able to open the windows from maybe two months to nine months. That resulted in much lower energy use and a much healthier environment.
Terri: When I'm thinking about architecturally exposed structural steel (AESS) and sustainability, I'm thinking about not putting in drywall. Steel becomes the architectural design feature. Drywall, which is not recyclable, needs to get repaired or painted at some point. With high-strength steel, you've got bigger spans, fewer columns, and less material needed. Less material required makes a building more sustainable. The more material we use, the less sustainable it becomes.
What are some building materials that best meet sustainability demands and why?
Ahmad: In most commercial buildings we're talking about, steel is the major material we would use. It's the preferred material because its high strength and stiffness allow us to have shallower depth members, span longer distances, and allow for column-free spaces. But not all steel is made the same way. In one recent project, the client was thinking about using imported steel. We asked them: "Do you know how the steel is produced? Is it recycled? What was the source of energy used to produce it?" When you look at companies like Nucor, they are at the forefront in addressing sustainability (Nucor uses recycled scrap-based electric arc furnace (EAF) technology at all of its U.S. mills). You also see the use of high-strength concrete, meaning less material is needed. Everything's possible.
Terri: Steel, because you can recycle it. And companies like Nucor put scrap steel into (EAFs) that don't rely on coal, making it the cleanest, most efficient way to manufacture steel commercially. But it's a very complicated issue, and it's one that varies around the country based on what your grid looks like and whether you've got a hydroelectric dam nearby where you can say you have access to clean electricity as opposed to still using a coal-fired plant.
What are some of the challenges related to sustainable design?
Ahmad: Resiliency and climate adaptability are also part of sustainability and can depend on location. For example, suppose you're building in an area prone to flooding. In that case, you need a structure that protects you from water surge and flooding while avoiding collateral damage from corrosion. We saw that here in New York City and also in New Jersey with Hurricane Sandy in 2012. And we're seeing what recently happened in Florida with Hurricane Ian. We've even done internal tests on different tree sizes to make sure we understand how they'll resist the forces.
Terri: Building owners will probably have to pay higher design fees because there's a lot more technical stuff that has to be figured out when you're making a building sustainable. There has to be more analysis done in terms of your systems, your energy flows in the building, making sure that you are specifying all the correct materials, sourcing the best windows, calculating for shading devices and things like that. And if you wanted a certification like LEED, that also costs money too. You need to get building owners engaged so they understand that in the end, the benefits of building sustainability can outweigh the costs.
What does the future of sustainability look like?
Ahmad: Some institutions are creating better metrics to track sustainability. And I'm expecting that every few years, we'll get a new set of procedures and protocols and ideas to improve sustainability further or reduce embodied or operational carbon.
Jason: I've had multiple conversations about just creating irresistible space. I'm an architect who got into the industry because I was excited about the opportunity to make people's lives a little bit better. We spend so much of our lives indoors. Healthier spaces inherently are de-stressor places, too. It's about using maybe a steel-wood hybrid, maybe using indoor planting, views to the outside, natural daylight, fresh air. The more we can include those things in our designs, the better off we can make people that use them.
Closing the loop on Carbon
Nucor, a leader in sustainability, is challenging the industry to get practical in closing the loop on carbon. By reducing, capturing, and recycling GHG at every point in our value chain, Nucor is working toward closed-loop steel production with zero net emissions:
We already produce steel with 75% less GHG intensity than today's global average.
We are committed to reducing it by an additional 35% by 2030.
Nucor's steel products are made from an average of 75.4% recycled content.
Some of our products contain almost 100% recycled content.
In 2021, Nucor introduced Econiq™, the world's first net-zero steel at scale.
About the Series
Nucor is featuring its Minds of Steel in a series of Q&A articles about important topics impacting architecture, engineering, and construction. In this installment, our Minds of Steel discuss why sustainability is such a critical topic and how innovations in the field are helping advance the built world.
About Minds of Steel
In 2021, Nucor launched Minds of Steel to recognize some of the most innovative minds in engineering and architecture. These individuals are using steel to transform tomorrow's increasingly challenging builds into reality.
Terri Meyer Boake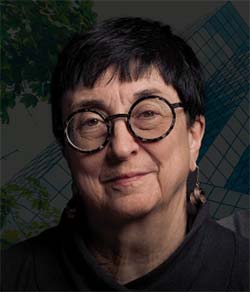 Terri Meyer Boake, B.E.S., B. Arch., M. Arch., LEED AP, is a professor at the School of Architecture at the University of Waterloo in Canada and an expert on architecturally exposed structural steel (AESS). Since 1986, Terri has taught building construction, environmental design, design studio, and architecture and film. She authored several books on steel design that include hundreds of her construction photographs with a goal of presenting buildings with a construction eye. A past president of the Society of Building Science Educators, Terri serves as a board member for The Skyscraper Center. Learn more about Terri.
Jason Smith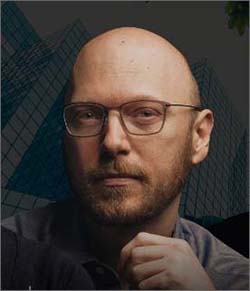 Jason Smith, AIA, is a design principal and architect with SmithGroup in Chicago. Jason advocates a holistic, inclusive approach in his work, collaborating with engineers, architects, contractors, tradespeople, and manufacturers. That interdisciplinary approach is seen in SmithGroup's design of the Center for Advanced Care in Chicago, featuring a physical space that is warm, open, and inviting for hospital patients and staff. Learn more about Jason.
Ahmad Rahimian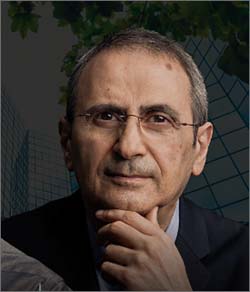 Ahmad Rahimian, Ph.D., PE, SE, F.ASCE, is executive vice president and USA director of building structures at WSP USA. In Ahmad's more than 30 years of experience with the firm, he's engineered noteworthy projects worldwide, ranging from high-rise commercial and residential towers to sports facilities. His work includes One World Trade Center, One57 at 157 West 57th Street, and the retractable roof over the Arthur Ashe Stadium. Learn more about Ahmad.