✕
For more than three decades—probably resulting from the globalization that began with the fall of the Berlin Wall in 1989—historians and critics have identified various new threads of architectural exploration. Such proliferation of interpretations has given rise to a scene so complex that it is almost impossible to comprehend the large number of trends and projects that abound—we are witnessing an incessant competition to find an ever-greater, singular, spectacular, and instantly recognizable expression. There has been widespread recourse to philosophy, literature, sociology, anthropology, environmental sciences, mediated communication, and the Internet, just to name a few of the themes that have preoccupied architects.
But architecture is the physical manifestation of living—it is a constellation of individual and collective memories, different representations of communities, and positive tensions between various historical periods, all realized in form and space. Design­ers have become more concerned with what is around buildings than with the ways of thinking about architecture and making it concrete. The history of architecture is passed over, if not entirely excluded, which can be attributed to a constant expansion of architecture's own disciplinary boundaries, the increasing marginalization of the art of composition, and the dissolution of the very reason for building—that is, its true essence and purpose. In front of historians and critics today is a radical neo-functionalism comprising technologies of extraordinary potential, a total dependence on digital design systems, and the pervasive presence of fads in the media. The intellectual values of architecture, which introduced us to the higher sphere of the spirit, no longer exist.
Lina Malfona's book Residentialism: A Suburban Archipelago provides an exemplary counterpoint to the aforementioned thematic framework. Intro­duced by architect Pippo Ciorra, who frames the author's built work within the critical-theoretical context of the architecture of the last 30 years, and supplemented with texts by Kenneth Frampton and Stan Allen, the book presents a series of 14 houses designed by her firm, Malfona Petrini Archi­tetti, in Formello, a countryside town north of Rome, each with evocative landscapes. Clev­erly conceived from a spatial point of view, the houses explore both precise and poetic geometries. As if in a dance, walls and columns, openings and enclosures, staircases and overlooks create a promenade architecturale that activates the sonorous cavities of the villas. Yet, at the same time, her architectural compositions radiate a kind of deconstructive energy.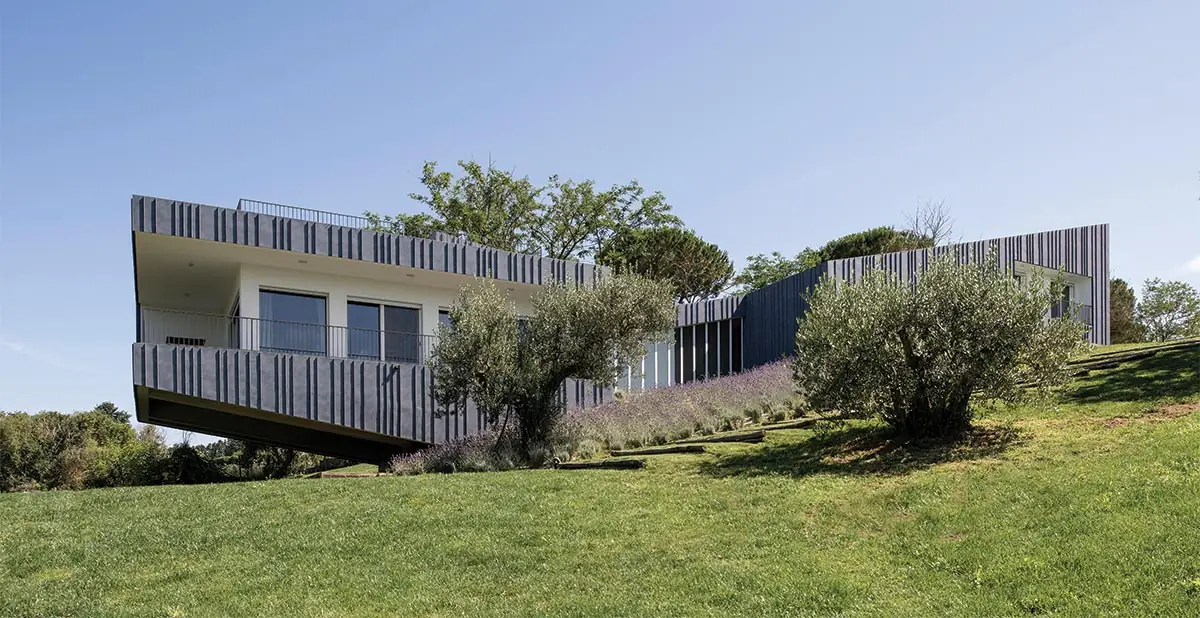 The House in the Bush, designed by Malfona Petrini Architetti. Photo © Matteo Benedetti, click to enlarge.
Today's architecture largely fails to explore structure, proportional and spatial devices, and to discover harmony. The most important aspect of Malfona's idea of composition is her manner of conceiving the relationship between grammar and syntax. This determines the character of an architectural work and is sadly underinvestigated by historians and critics. Consider the work of Giuseppe Terragni, for example: architecture only clearly expresses profound content when the distance between grammar and syntax is minimal—when the two systems are approaching overlap. Malfona is able to all but eliminate that gap. Her architecture conveys a precise and inspired portrait of its unique moment, but would also seem to transcend stylistic definition.
Villa A and Villa B of Finestre sul Fiume, designed by Malfona Petrini Architetti. Photo © Matteo Benedetti
Architectural space is divided into absolute space and phenomenological space. The former is created by a unified envelope; the latter by assembling spaces that individually foster scenographic effects. Mies van der Rohe's spaces were absolute, while Le Corbusier's were phenomenological. As revealed in the book, Malfona does not make a distinction between the two but knows how to unify them—not through synthesis but, instead, by alternating between the absolute and the phenomenological in a rhythmic cadence that recalls Goethe's idea of architecture as "frozen music."
One final consideration concerns light. In the houses of Malfona Petrini Architetti, a kind of ontological view of light merges with an analytical view of light, creating an atmosphere in which the constructive elements of architecture are identified and their roles in tectonic and spatial ordering made clear—and at the same time they transform into something indelible. Malfona's work is able to evade readings of a sociological nature and overcome a utilitarian dimension. It is both concrete and delightfully idealistic. These villas are not mute, nor do they merely speak—instead they sing to celebrate life.