✕
The museum-going experience at the Hammer is a truly singular one. Entering from multiple locations, visitors, once inside, weave in and out of the museum's central courtyard as they make their way through the galleries, some designed as such, others recently converted from office floors in the adjacent tower, another a former retail-bank space on the ground floor. Originally opened in 1990 as the Armand Hammer Museum of Art and Cultural Center, the building, designed by Edward Larrabee Barnes, has been undergoing a series of interventions—outlined in the diagrams below—by Michael Maltzan Architecture (MMA) beginning in 2000. In March, the museum, which has free admission to all and is part of the School of the Arts and Architecture at UCLA, celebrated the culmination of that transformation, whose final phase included a redesigned Wilshire Boulevard entrance, an outdoor sculpture terrace, and a spacious new art-filled lobby. Michael Maltzan and Hammer director Ann Philbin talked with RECORD editor in chief Josephine Minutillo about their decades-long collaboration and the evolution, during that time, not just of their building, but the city of Los Angeles as well.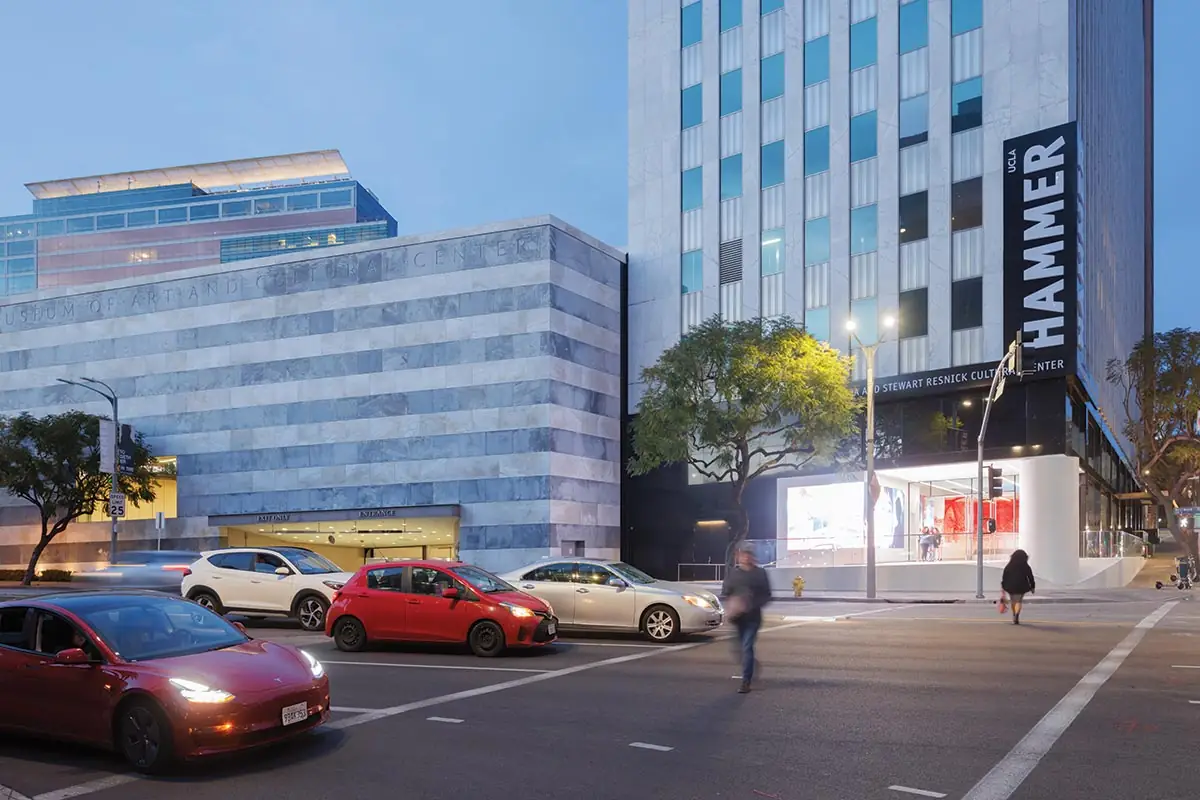 The Hammer Museum now has a stronger street presence, with a prominent new entrance on Wilshire Boulevard. Photo © Iwan Baan, click to enlarge.
There are classical museum buildings, house museums, museums in former industrial spaces—but the Hammer is an unusual amalgam of spaces. What were the challenges and opportunities of working within this existing structure?
Michael Maltzan: From the beginning, the mission was to create a place that had its own unique identity, its own energy. The multiple entries, for instance, which could be seen as a challenge, were actually a huge advantage. It says something about an institution when you can come from almost any direction in the city and enter the museum—it's so different from, say, the Met in New York, where you are confronted by that huge set of stairs, which tends to create a physical and psychological impediment for many people.
Pragmatically, the fact that Barnes's museum had its lobby in the base of the Occidental tower, which was Armand Hammer's company, and was connected to it, created very difficult complexities. The building types are different, there were different floor-to-ceiling heights, the parking garages were linked but in a circuitous way. And because it was connected to a high-rise, the museum was technically a high-rise as well. From a code standpoint, it made the museum project difficult for Barnes, and in some cases difficult for us.
His building was completed in 1990—right at the moment when the role of museums and culture was changing significantly, to become much more accessible, much more engaging. The Hammer was one of the last of that old idea of a museum.
I did get to meet Ed Barnes at the start of this project, and we went over the changes that we were proposing. He was OK with them. I thought that was an unbelievably remarkable thing, where architecture, in that case, was bigger than the architect, in his mind.
Ann Philbin: Barnes's building did have a great asset. The courtyard is a hugely important element of this structure. In fact, it's the first thing that attracted me to this place. When I walked into this building, it was a bleak-looking place, but I saw the giant courtyard and I realized that, in a city like this that has very few parks and gathering spaces, this is an ideal structure. That's why we started on the theater first. This is a place not just for exhibitions but for public programs and people coming together. We have 300 events in that theater every year—but it was literally a hole in the ground at the opening, because they wanted to finish the original museum so Armand Hammer could see it before he died, and the theater space never got fully built out. The gathering part of this place is absolutely one of the most important things about it.
MM: It was really about jump-starting a new form of civic and urban life in this city. That's what's been extraordinary to see over the years.
AP: But this is also a space for artists. I wanted to make a place that artists wanted to come to, a place with exhibitions that artists wanted to see.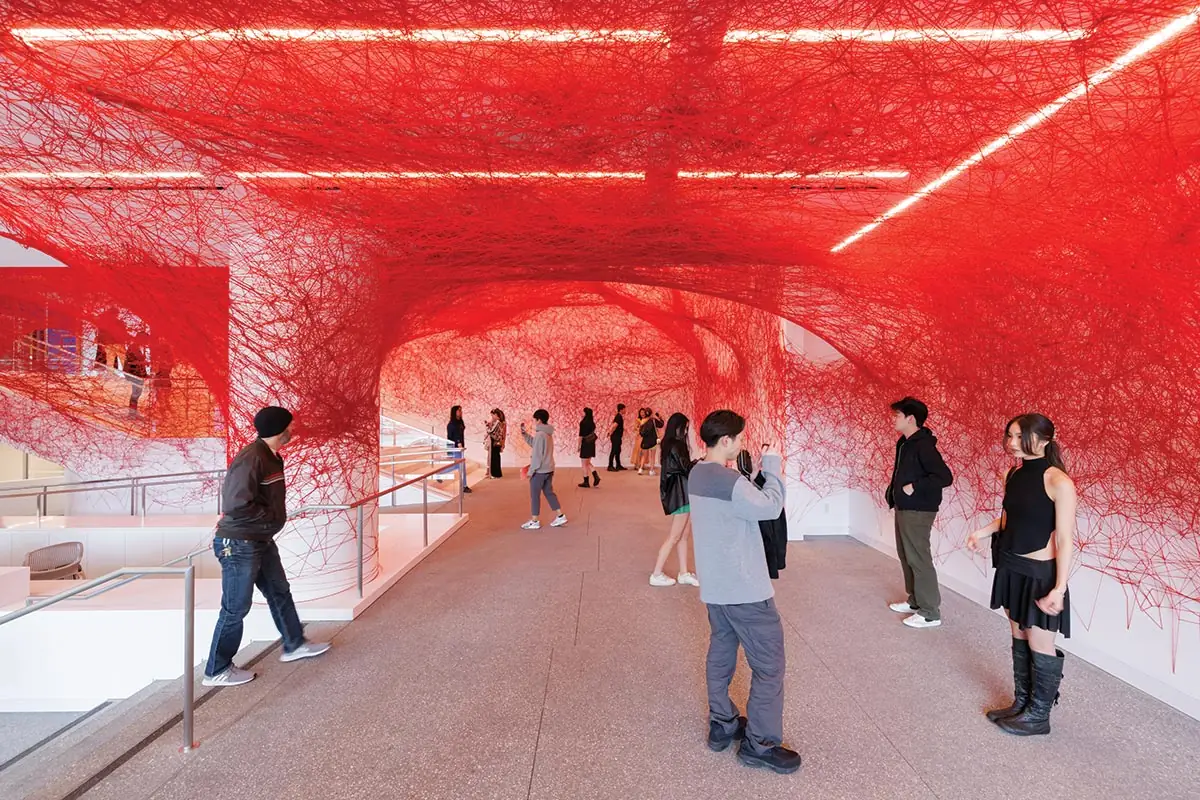 Chiharu Shiota's site-specific installation blankets the walls and ceilings of the redesigned lobby with her signature red wool fibers. Photo © Iwan Baan
Currently in Los Angeles the Lucas Museum and LACMA are under construction, among others. Where does the Hammer fit in this changing cultural landscape?
AP: We have become a leading institution in this city for contemporary art. There's enormous friendliness and collegiality among the museum directors, and we're all excited about all the projects happening—and there are a lot of them. All boats rise here.
Ann, what made you take a chance on an architect who at the time had only been in practice on his own for a few years?
AP: I had only seen residential projects that he had done, but the buildings were for people I really trusted and who were friends of mine. And they were champions of Michael's. When I met him, and he delivered a proposal, I just knew.
Michael, how does it feel to be the architect of a project where many of the architectural moves go unnoticed by most?
MM: I knew from the beginning that much of what was going to happen architec turally, in order to choreograph movement and program, was going to be more surgical, more strategic, and I became completely fascinated by that.
How has attendance grown as more aspects of the project were realized?
AP: When I got here [in 1999], attendance hovered around 35,000 a year, and it's since gotten to over a quarter of a million. The museum was hidden in this office tower. When people realize that it's here and that it's free, we're going to see an even bigger increase.
Because the interventions have happened gradually in an existing building, has that taken away from the "big splash" so typical of many museum openings?
MM: I think you often see that "big splash" happening instantaneously, and then it's done—it's a kind of anticlimactic moment. Here, what's interesting is that the understanding of the Hammer as an institution, the excitement about it, has also built up over 20 years in the same way that the institution has continued to grow and evolve.
AP: We would have made a lot of mistakes if we had followed our first master plan to the letter. Because the process was incremental, we had the opportunity to change and tweak and alter things as we observed how visitors behaved and how we used the space. I feel so lucky now, but if someone had told me when we started that it was going to take over 20 years I would have said "Forget it!"
Is there an example of something that changed from the master plan?
AP: The renovation of the galleries was going to be much later in the process, but then we wanted to take an exhibition of Al Ruppersberg's work from the Walker Art Center. Word got back to me that he didn't like the galleries. And he was right, we had galleries that were not very modern or attractive—they had molding and yellowed wood floors. We hadn't prioritized that, because at least they existed, but in that minute, we decided, "Next phase is now the galleries!" And we renovated the galleries and presented Al's retrospective.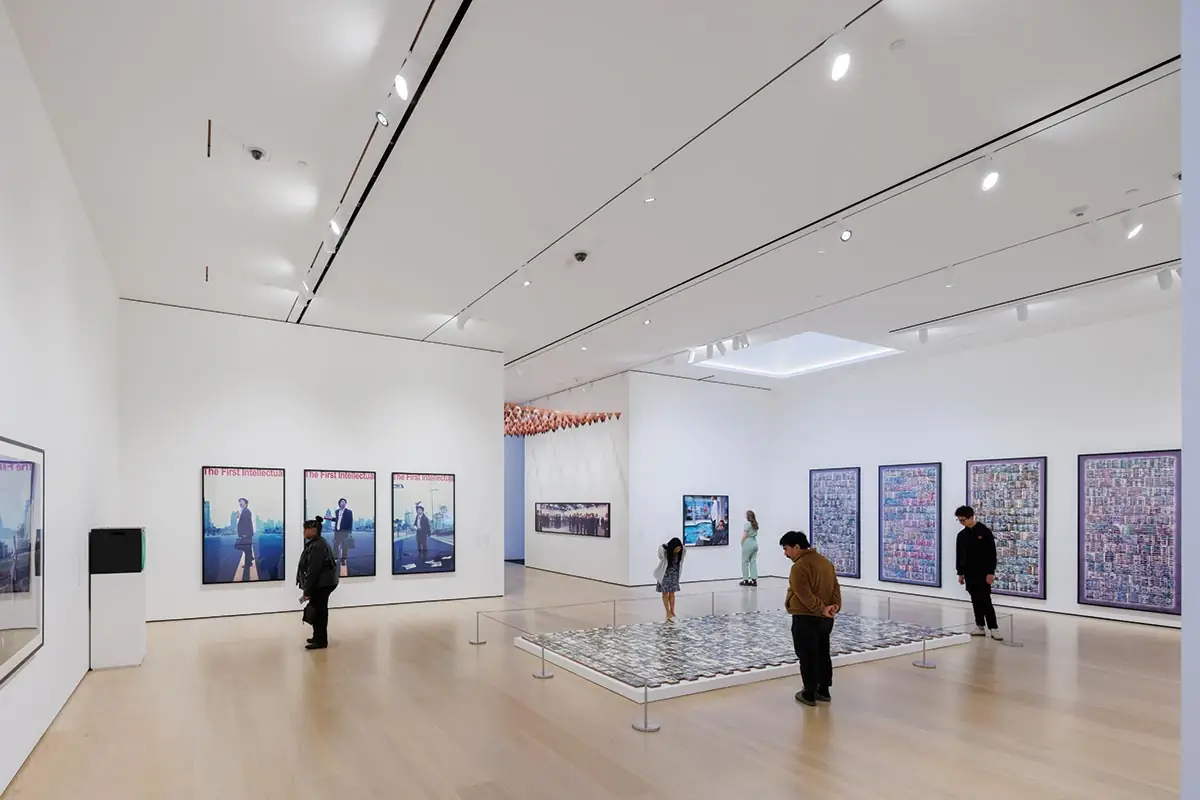 1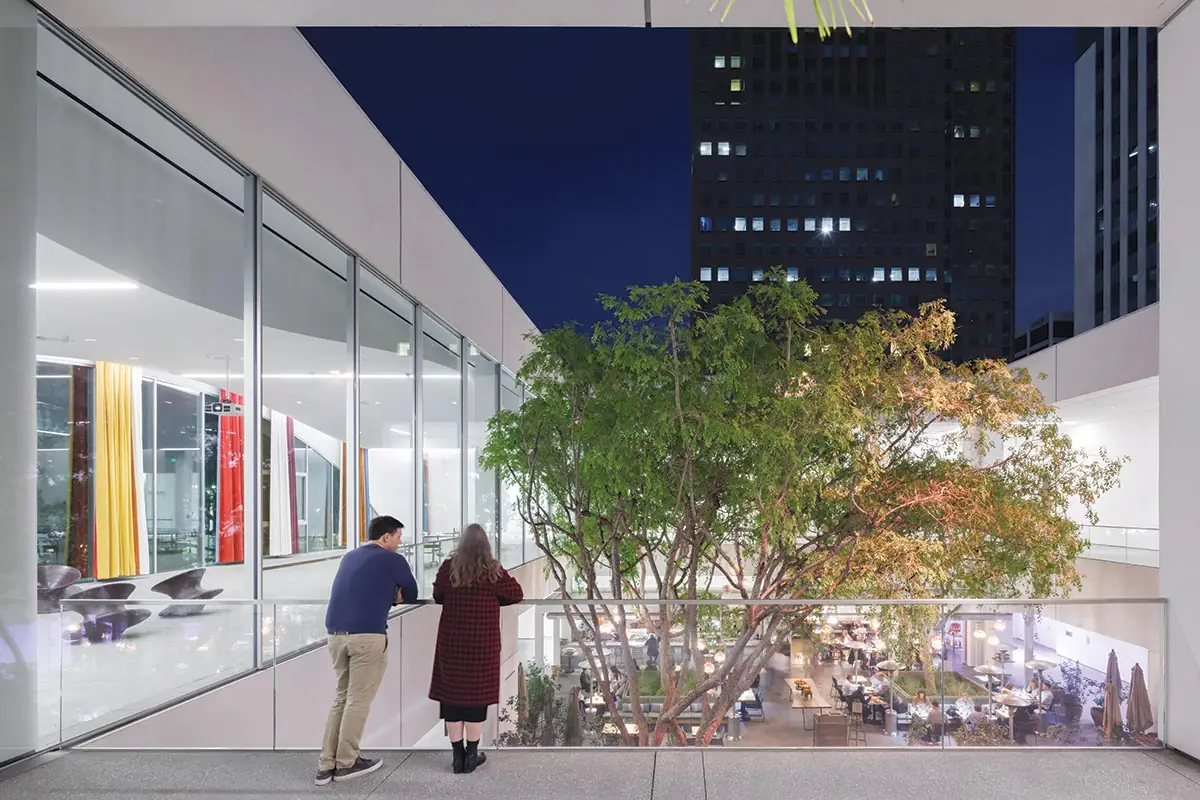 2
Upper-level galleries (1) open onto terraces that overlook the courtyard (2). Photos © Iwan Baan
Well, now you have Rita McBride, who loves the "corporate ruin" of the old bank at the Hammer for her current exhibition. Would you consider leaving it like that, or will there be another phase to this "completed" project to renovate that space?
AP: We don't have the money to do that right now, because we took that money to save our staff during Covid. But it will eventually be done. And we will make that space continuous with the rest of the museum.
So, when you say this is the culmination of 23 years of collaboration, it's really not true?
AP: Not completely . . .
Click graphics to enlarge